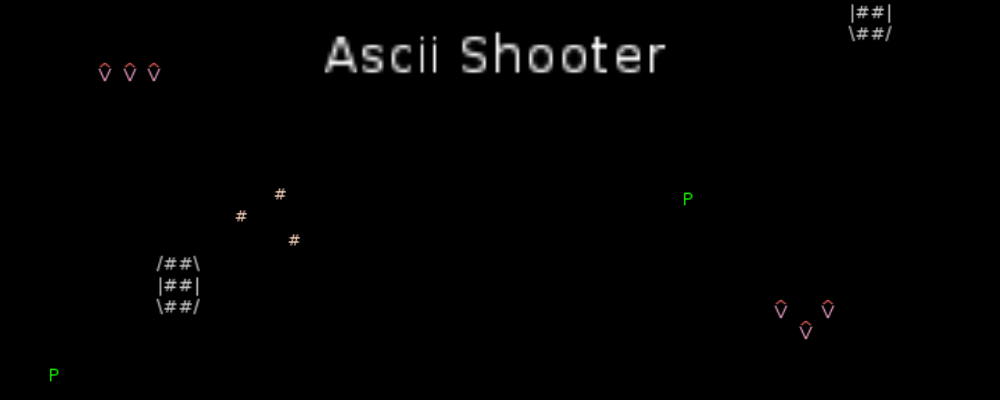 AsciiShooter
A downloadable game for Windows and macOS
Ascii Shooter is a style arcade shooter for PC and OS X. You must battle your way through an endless onslaught of ascii based enemies. The higher your score the tougher the enemies get. Also not all powerups are good, so pick them up with caution.
---
How to Play:
Controls:

WASD or the arrow keys for movement
Spacebar to fire
p key to pause the game (contains bug).

Powerups are dropped at random form enemies.

All Powerups are randomized so they may not always be helpful

Enemies get stronger the further you progress
---
Future Plans:
Procedural bosses
Ship upgrades
More Powerups
---
Version Beta 1.0.0 Changelog
Added bosses
Added death animations
Added sounds when shooting
Fixed bug where score increased when enemy ran into object or off screen
Fixed bug that made player move off screen when they died.
Version Alpha 1.1.0 Changelog
New enemy type
New obstacles
Tweaked enemy AI behaviour
Added a lives system
Player now flashed invincible at the beginning of game and when hit by enemy
Added more powerups
Powerups are represented in terms of what they grant the player
Fixed button click bug on title screen
Added 'credits' and 'how to play' menu options
Download
Click download now to get access to the following files:
AsciiShooter Beta 1.0.0 Mac
3 MB
AsciiShooter Beta 1.0.0 PC
3 MB